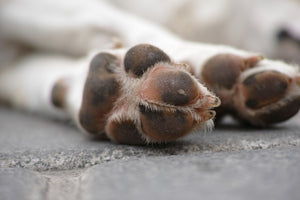 How To Treat Your Dog's Rough And Cracked Paws
How To Treat Your Dog's Rough And Cracked Paws
Dry, cracked and rough paws are common in dogs and can be caused by a number of factors, including:
The weather
On sunny days, pavements can become hot. Unlike humans who can protect their feet with shoes, your dog's paws are unprotected from the heat of the pavement, which can cause damage and blistering. A trip to the beach may be top of your pet's favourite things to do, but salt and sand can also harm their paws.
Just like warmer weather can impact their paws, so can colder air with low moisture – like that found in your home when the heating system is on.
Chemical irritants
Certain chemicals are found on the ground seasonally, whether it's the fertiliser used in the garden during summer or the road salt used to de-ice roads in winter. Some household cleaners can also make you dog's paws feel rough.
Allergies
If your dog has sore paws, it may be because they are allergic to certain foods or environmental conditions. This can cause their paws to itch, with wounds potentially developing if your dog scratches or bites at them.
How can I treat my dog's rough and cracked paws?
When your dog's paws are rough and sore, the problem can escalate if you leave them to nibble and lick to relieve the pain. A more sensible option is to apply a balm to their paws to soothe them and ease any irritation.
Paw Soother is the perfect option, as it's specially formulated from all-natural ingredients. This is especially important when you consider that your dog will often lick their paws, meaning they won't ingest any nasty chemicals.
Paw Soother is formulated from the following ingredients:
Organic Cocoa Butter, Organic Shea Nut Butter, Grape Seed Oil, Organic Hempseed Oil, Candelilla Wax, Organic Jojoba Oil, Organic Sunflower Oil, Organic Sweet Almond Oil, Tea Tree Oil, Natural Vitamin E, Rosemary Extract.
Why is it important to check your dog's paws?
Just like a dry nose can be a symptom of a more serious health issue, your dog's paw health can be a symptom of their overall health.
Speaking to PetMD, Veterinarian Dr. Donna Raditic said:
"The cells in a dog's paw pads have a high turnover rate. They require a lot of nutrition and a lot of blood supply. If something isn't perfect in the body it can show up there first. But we tend not to think that way. It can take something drastic before we notice there's something wrong with our dog's health." — Dr. Donna Raditic, DVM, DACVN, CVA
If you don't see any improvement from regularly moisturising your dog's paws, speak to your vet. This could be a sign of liver disease, dermatologic issues and metabolic problems.
It may also be a symptom of hyperkeratosis. This is where your dog produces too much keratin, which causes their paws and other parts of their body to become thick and callous-like.
Find all-natural products to treat your pet's paw problems in our dedicated paw care range.
---