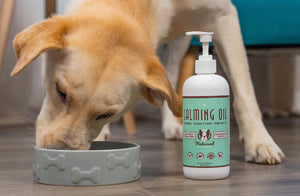 Introducing Calming Oil: Promote Relaxation for Your Pup
Introduction: As pet owners, we understand the importance of keeping our furry friends calm and happy. That's why we are thrilled to introduce our latest product, Calming Oil, from Natural Dog Company. Designed to promote relaxation and ease nervousness, this liquid supplement is formulated with a powerful blend of natural ingredients. Let's delve into the benefits and features of this fantastic new addition to our supplement line.
Calming Oil harnesses the power of nature to provide a gentle and effective solution for dogs experiencing nervousness, hyperactivity, discontentment, or stress. The main ingredients, carefully selected for their calming properties, include:
Melatonin
Valerian Root
Chamomile
Hemp Seed Oil
Passion Flower Powder
Ginger Root Powder
We've made administering Calming Oil hassle-free to ensure a seamless experience for both you and your furry companion. Simply apply the recommended number of pumps to your dog's bowl or lick mat during or after mealtime, based on the suggested dosage for their weight.
At Natural Dog Company, we prioritize the well-being of dogs of all breeds, ages, and sizes. That's why our Calming Oil is crafted with the utmost care and is free from CBD or THC. We believe in providing a delicious and potent formula that you can trust for your beloved four-legged friend.
Don't just take our word for it. Here's what some of our satisfied customers have to say about Calming Oil:
Robyn K: "They love the taste, and it calms their anxiety. The Calming Oil has been a game-changer for our furry friends. Highly recommended!"
Dallas: "This has done wonders for our dog's anxiety when it comes to trips! Usually, she paces and moves through the back seat constantly. She enjoys car rides, but she gets antsy. With Calming Oil, she was calm and stayed put for most of the drive. So worth it!"
Calming Oil from Natural Dog Company is the perfect solution for promoting relaxation in dogs facing nervousness, hyperactivity, discontentment, or stress. With its blend of natural ingredients, easy application, and safe formulation, you can bring peace and tranquility to your pup's life. Try Calming Oil today and witness the transformative effects it can have on your furry friend's well-being.
---