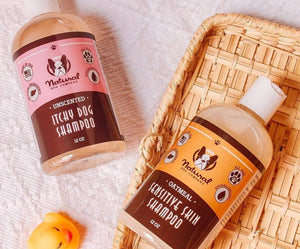 Introducing: Natural Dog Company Itchy Dog & Sensitive Skin Shampoos
Let's face it; it's hard to keep your dog looking their best at this time of year. With rain, snow and mud aplenty, bath time is an even more regular occurrence!
Thankfully, we've just added two new products to our range that will make bathing your pup easier, and help them look, feel and smell great.
Here's a little more information about our brand new Natural Dog Company liquid shampoos:
Sensitive Skin Oatmeal Shampoo
The Natural Dog Company Sensitive Skin Shampoo is a great all-rounder. Its extra gentle hypoallergenic formulation makes it suitable for all dog breeds and ages, even puppies.
Containing no sulphates, parabens, alcohol or toxins, the shampoo is designed to sooth and relieve dry, itchy and irritated skin. Key ingredients include:
Aloe Vera – rich in skin protecting antioxidants, it can help to reduce skin conditions like psoriasis and dermatitis.

Coconut oil – moisturises, reduces redness and promotes a shiny coat.

Colloidal oatmeal – provides relief from irritation and inflammation and acts as a gentle emollient to keep skin hydrated and soft.

Chamomile extract – a natural anti-inflammatory that gently soothes sensitive skin.

Manuka honey – helps to balance the skin's sensitive pH and has anti-inflammatory properties.
Despite being unscented, the shampoo's natural ingredients mean it has a soft, floral aroma, so your dog will smell good too.
Itchy Dog Shampoo
If your dog is prone to itching, give them the natural relief they need with the Natural Dog Company Itchy Dog Shampoo.
Whether the cause of the itch is allergens, bug bites or other irritants, the shampoo is safe to be used on dogs of all breeds and ages.
Unscented and hypoallergenic, the shampoo provides deep hydration for dry itchy skin, while also offering antibacterial and antifungal properties for additional relief from symptoms. Key ingredients include:
Lavender oil – providing antimicrobial, antifungal, and anti-inflammatory properties designed to soothe and calm itchy, dry skin.

Eucalyptus oil – offers protection against environmental stressors and promotes wound healing.

Jojoba oil – an Anti-inflammatory ingredient that relieves chafed, chapped skin and reduces redness.

Aloe Vera – supports the healing of burns, abrasions, cuts, and irritations while deeply moisturising skin.
What our customers say:
"I recently used the Natural Dog Company Itchy Dog Shampoo on my dog , who was extra muddy after his walk. The shampoo made removing the mud very easy and it has a pleasant fragrance.
I normally use a shampoo that's specifically formulated for white dogs, but after using the Itchy Dog shampoo, Woody's coat was noticeably whiter. I've noticed he is itching less and everyone is commenting on how clean, fresh and fluffy he looks. I will definitely be using this shampoo again." – Michelle
Both variants of the Natural Dog Company liquid shampoos are available to buy now on our website for just £17.99 each. Order yours today!
---