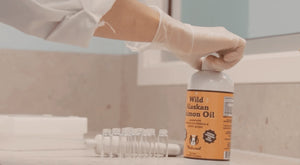 Natural Dog Company Qualifies for Prestigious ORIVO Origin Verification Program
Natural Dog Company, a renowned provider of premium dog products, is proud to announce its successful qualification for the prestigious ORIVO origin verification program. This achievement reinforces the company's unwavering commitment to ingredient purity and transparency.
The ORIVO origin verification program is built on highly sophisticated third-party product testing that verifies the authenticity and origin of ingredients. Through advanced proprietary chemical fingerprinting technologies, both the species (wild salmon) and the area of catch (Alaska) are confirmed. Natural Dog Company's qualification for this program underscores its dedication to ingredient transparency and to delivering exceptional products that promote the well-being of dogs worldwide.
Traceable from Ocean to Bottle
Natural Dog Company's Wild Alaskan Salmon Oil for dogs stands as one of its flagship offerings, celebrated for its remarkable purity and natural qualities. The oil is derived from sustainably sourced wild Alaskan salmon, known for its abundant nutrients and numerous health benefits for dogs.
Chris Osepowicz, Senior Supply Chain Manager at Natural Dog Company, expresses the company's deep commitment to ingredient purity, stating:
"From a sourcing perspective at Natural Dog Company, the importance of fish oil purity testing at our vendors and internally cannot be overstated. It serves as the guardian of quality, ensuring that every step from ocean to bottle is accountable for the well-being of the dog. By prioritizing purity, Natural Dog Company protects the dog's health, as well as meets the standard that the brand holds itself to when it comes to using pure and natural ingredients to create premium dog products."
The collaboration between Natural Dog Company and ORIVO further strengthens the company's commitment to upholding the highest standards of quality control and traceability throughout the entire production process. Through comprehensive testing and verification, Natural Dog Company ensures that only the purest and most natural ingredients find their way to cherished pets around the world.
A Market Leader Raising the Bar
Benedicte Garnes, Sales Manager at ORIVO, is thrilled to have this new pet supplement brand on her client list, saying:
"Working with Natural Dog Company has been a true satisfaction so far! They are very professional and a very good fit for our verification program. Considering the current fragile omega-3 sourcing situation globally, combined with the rapid growth in the US pet supplement space, it is particularly satisfying to see a market leader like Natural Dog Company raising the bar to the level all brands should be at in this supplement segment."
With this qualification, Natural Dog Company solidifies its position as a trusted provider of premium dog products that prioritize the health and well-being of our four-legged companions. Pet parents can have complete confidence in the quality and authenticity of Natural Dog's Wild Alaskan salmon oil, knowing that every production batch undergoes the same stringent verification scheme and unique origin validation at ORIVO's product testing laboratories. When it comes to the health and happiness of your furry family members, Natural Dog Company sets the gold standard.
---