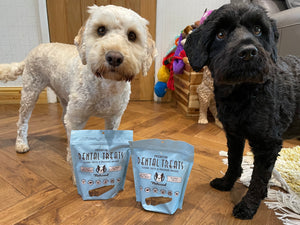 Review: Premium Dental Treats by Natural Dog Company
Doggie kisses: wet, slobbery and — let's face it — stinky! As much as we love our dogs greeting us with a loving lick, we wish their breath was a little fresher!
Bad breath affects many dogs and can range from a slight staleness to a stench that may be symptomatic of a more serious dental problem. Many owners simply live with their dog's breath, keeping their distance wherever possible, while others may attempt to use a doggie toothbrush to clean those pearly whites.
But what if we told you there was an easier way to clean your dog's teeth AND keep their breath fresh?
NEW from the Natural Dog Company are Premium Dental Treats. These vet-approved handy chew sticks are the perfect treat for dogs of all ages. Created from all-natural ingredients, the treats contain coconut oil and pumpkin to naturally combat bad breath. 
The shape of the treats may look familiar (clue: it's the Natural Dog Company logo!) but the chew sticks aren't all style over substance! We've carefully designed the shape of the chews to gently remove plaque and tartar buildup as your dog chews them - pretty clever, huh?
Of course, with every one of our new products, we like to get them approved by our four-legged brand ambassadors. Hogan and Ozzy were some of the first to try our new treats and as you can see, they were certainly well received!
Hogan and Ozzy's owner commented: "I was really excited for the dogs to try the new Natural Dog Company dental treats. I always like to give them new treats to try and it's definitely a bonus if they're made from all-natural ingredients. As soon as I opened the pouch, I could tell the difference in the quality of the treats. They have a fresh smell and are a good size too."
Want a pack for your dog? Our Premium Dental Treats are now available to buy online for just
£14.99
 per pack.
---