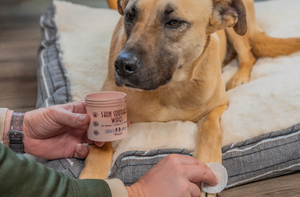 Unleash the Soothing Power of Skin Soother Wipes - Extra Gentle On Skin, Easy To Apply!
As devoted dog owners, we understand the heartache of seeing our furry friends suffer from itchy, dry, or irritated skin. At Natural Dog Company, we are committed to providing the utmost care for your four-legged companions. That's why we are thrilled to introduce our latest breakthrough: Skin Soother Wipes - the ultimate solution for your dog's skin woes!
Gentle Relief for Your Pup's Skin:
Skin Soother Wipes have been meticulously formulated to gently and effectively alleviate a range of skin issues, including dryness, redness, cuts, rashes, burns, and even minor skin infections. We empathise with the distress allergies can cause for our dogs, and that's why these anti-inflammatory wipes are designed to bring swift care to your canine companion.
Versatility and Safety for All Dogs:
One of the standout features of Skin Soother Wipes is their versatility. These wipes are safe to use on your dog's face, paws, and even their sensitive behind, providing a comprehensive solution for your pup's skincare needs. Whether you have a tiny Chihuahua or a majestic German Shepherd, rest assured these wipes are suitable for dogs of all sizes, ages, and breeds.
Vet-Formulated and Extra Gentle:
At Natural Dog Company, we prioritise the well-being of your furry friends. Our Skin Soother Wipes are expertly vet-formulated with the finest organic, plant-based ingredients, ensuring they are not only effective but also extra gentle on your dog's sensitive skin. We understand that some dogs may have allergies or sensitivities, so we have carefully selected each ingredient to minimise the risk of adverse reactions.
Clean and Easy Application:
Applying balms or creams to your dog's skin can be messy, requiring you to wash your hands afterward. With Skin Soother Wipes, this hassle is eliminated. These wipes provide a cleaner, more convenient way to apply the soothing balm to your dog's skin, without the need for additional cleanup.
Stability and Convenience:
While our Skin Soother balms have been highly effective, we understand that temperature fluctuations can sometimes cause them to melt, making them less convenient for storage and travel. With Skin Soother Wipes, this concern is eliminated. The wipes are more stable under various storage conditions, making them your perfect on-the-go solution for your dog's skincare needs.
Star Players in Skin Soother Wipes:
Our ingredients are organic, plant-based, and never compromised. With the highest quality and natural healing properties, these wipes are effective, safe, and will leave your pup living its best life! Let's take a closer look at some of the star players in Skin Soother Wipes:
Oat Extract: This grain-based ingredient moisturizes and nourishes dry, sensitive skin while also healing and soothing irritated areas. Oat Extract also helps to aid in maintaining the skin's natural protective barrier.
Lavender Oil: Lavender is a natural oil extracted from lavender flowers that has strong anti-inflammatory, antifungal, antimicrobial, and detoxifying properties. Lavender helps to reduce redness, soothe, and heal skin from irritation.
Chamomile: Listed as Anthemis Nobilis Flower Oil in the ingredients, this essential oil contains powerful antioxidants that help to calm, soothe, and protect the skin. Chamomile helps alleviate redness and inflammation from its anti-inflammatory properties.
Experience the Natural Dog Company Difference:
With Skin Soother Wipes, we continue our commitment to providing the best for your canine companions. These wipes offer the perfect balance of convenience, effectiveness, and safety in addressing various skin issues.
Embrace the simplicity and efficacy of Skin Soother Wipes - the gentle, easy-to-apply solution that will leave your dog's skin feeling rejuvenated and looking its best.
Healthy Skin, Happy Dog - Get Your Skin Soother Wipes Today!
---